HCGO-200.0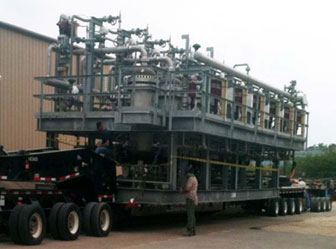 Coke Particulate Filtration Package
Skid-Mounted Modular System, Engineered-to-Order
IFS Hot Coke Gas Oil Filtration Packages are designed to filter particulate from the heavy coker gas oil before entering the catalytic cracker. IFS HCGO Filter Packages extend the life of the catalyst and reduces catalyst regeneration cycles.
Features of IFS HCGO Filter Systems:

Flexibility – Patented Filtration Pack
Filters sponge, shot, needle coke
Depressurization Safety
Large blow down opening
Maintainability – Filter pack mounted to closure
Low Pressure Drop – Channeled inward flow with low clean and dirty pressure drop
Process Guarantee
Factory Trained/Certified Technicians
24/7 USA Customer service (800-527-8724)

Industry Standards:

Filter vessels code stamped ASME Section VIII, Div. 1 & National Board Registered
Piping Designed to ANSI B31.1 / B31.3
Pipe Fab to ASME

Benefits of IFS HCGO Filter Systems:

Longer catalyst life
Lower operating cost
Low Maintenance
Longevity
Extended filtration surface area
Requires fewer back flush cycles

For a modular Coke Particulate Filtration skid-mounted and engineered-to-order, call 1-800-795-4068 or send us an email.