MPPP-100.0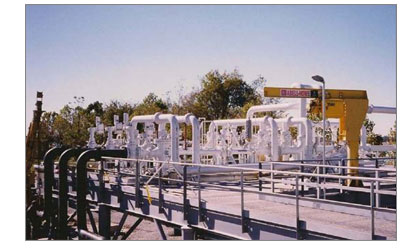 Modular Pipeline Package
Skid-Mounted Modular System, Engineered-to-Order
Integrated Flow Solutions Modular Pipeline Pumping Packages are pre-designed, packaged and fully tested for a wide range of product pumping applications. The complete system includes a motor control center housed in a climate controlled building with optional low or medium voltage variable frequency drive(s).
Benefits:

Single Source Accountability
Pre-Packaged Modular Design Costs Less than component based site built which reduces overall project cost
Minimizes field erection time – shorter overall project delivery schedule
Complete system function testing prior to shipment
24/7 Customer service (800-527-8724)

Industry Standards

Electrical designed to NEC, CSA, or IEC
Piping/tubing designed to ANSI B31.3/ANSI B31.8
Structural Steel Assembly Designed to AWS D1.1

Standard Features:

Modularized Construction
API BB1 & BB3 Pumps
ASME Inlet Strainers
Socketwelded or Butt Welded Piping
Full Port Ball Valves
On Skid Spill Containment
Dual Scale Liquid Filled Pressure Gauges

Optional Features:

Automated Minimum Flow Bypass
Thermal or Full Flow Relief Valves
Actuated Valves – Air or Electric
Pump Protection

Casing RTDs
Thermal Flow Switch
Vibration Probes/Transmitters
Bearing RTDs/Temperature Transmitters
Motor Protection
Bearing RTDs/Temperature Transmitters
Vibration Probes/Transmitters
Winding RTDs

Custom Skid Decking
Custom Paint

Additional Services:

Installation / Training / Start – Up Supervision
Extended warranty
Worldwide Service Network
Customized Systems

For a Modular Pipeline Pumping skid-mounted and engineered-to-order, call 1-800-795-4068 or send us an email.