GPRS-100.0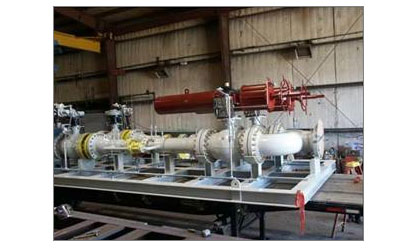 Natural Gas Pressure Reduction Station Package
Skid-Mounted Modular System, Engineered-to-Order
Integrated Flow Solutions Gas Pressure Reduction Stations are pre-designed, packaged and fully tested for a wide range of pipeline applications. The complete system includes a process simulation using Aspen Plus® and Aspen Dynamics®, local control panel, instruments, tubing, valves, fast acting and motor actuators, and filtration integrated on skid.
This package can be modified as a Compressed Natural Gas (CNG) Decanter System.
Benefits:

Single Source Accountability
Pre-Packaged Modular Design Costs Less than component based site built which reduces overall project cost
Minimizes field erection time – shorter overall project delivery schedule
Complete system function testing prior to shipment
24/7 Customer service (800-527-8724)

Industry Standards:

Local Control Panel designed to NEC, CSA, or IEC
Piping/tubing designed to ANSI B31.3/ANSI B31.8
Structural Steel Assembly Designed to AWS D1.1

Standard Features:

Reduced Port
Sized for 80 PSI Instrument Air Supply
Plated Trim Materials
Carbon Steel Materials
Fire Safe
Open Beam Skid
Dual Scale Liquid Filled Pressure Gauges

Optional Features:

Full Port
Sized for 60 PSI Instrument Air Supply
Actuators designed for Instrument Gas Supply
Hot Backup Redundant Control
316 SS Trim Materials
350-LF2 Materials
High Temperature Seats
Low Temperature Seats
Discharge Pressure Instrumentation
Oversized Skid
Skid Drain Pan
Custom Skid Decking
Custom Paint
4-20 mA Feedback
Manual Override System

Jack Screw Type
De-Clutchable Type

Additional Services:

Installation / Training / Start – Up Supervision
Extended warranty
Worldwide Service Network
Customized Systems

For a modular Natural Gas Pressure Reduction Package (or similar unti) skid-mounted and engineered-to-order, call 1-800-795-4068 or send us an email.