AQAM-100.0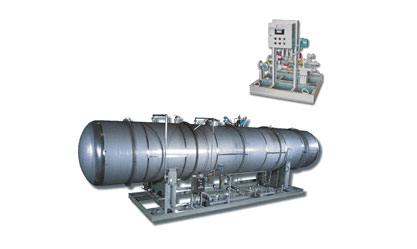 Aqueous Ammonia Unloading, Storage, & Forwarding Package
Skid-Mounted Modular System, Engineered-to-Order
Integrated Flow Solutions Aqueous Ammonia Unloading Station & Storage/Forwarding Systems are designed to unload 19% and 29% Aqueous Ammonia from transports into a modular Storage/Forwarding System which includes a storage tank, forwarding pump system, instrumentation and controls. The complete system is designed to minimize field assembly. The forwarding system is designed to transfer the Aqueous Ammonia to the Ammonia Flow Control Unit (AFCU).
Benefits

Single Source Accountability
Pre-Packaged Modular Design Costs Less Than Component Based Site-Built Systems Reducing Overall Project Cost
Minimizes Field Erection Time - Shorter Overall Project Delivery Schedule
Complete System Function Testing Prior To Shipment
24/7 Customer Service

Industry Standards

Vessels Code Stamped ASME Section VIII & National Board Registered
Piping Designed to ANSI B31.1/ANSI B31.3
Pipe Fabrication to ASME Section IX
Structural Steel Assembly Designed to AWS D1.1
Complete System Designed to API RP 550

Standard Features

INTEGRASAFETM Unloading Station

Local Indication of:

Tank Level
Flow Indication

Local Manual/Automated Valve Operation

Standard Features (Continued)

Storage/Forwarding System
Vessel Storage Up to 30,000 Gallons
Vessel Material Options:
Heavy Duty Forwarding Pumps to Meet Any Hydraulic or NPSHA Condition

Centrifugal/Gear/Regen Turbine/Mag Drive & Canned Motor

Locally Mounted Control Panel
Complete Factory Function Test

Optional Features

Separate Skid Mounted Pump Forwarding System
Unloading Breakaway Couplings
PLC Based and Full VFD Control Panel per NEC & NFPA
UL or CSA Listed Control Panel Assembly
Complete Factory Performance Test
Class 1, Div. 2 Hazardous Locations
Compliance with Plant/Engineering Specifications

Additional Services

"Aspen Plus" Process Simulation Software Used To Guarantee Process Conditions
Installation/Training/Start-Up Supervision
Extended Warranty
Nationwide Service Network

For a modular Aqueous Ammonia Unloading, Storage, & Forwarding (or similar unit) skid-mounted and engineered-to-order, call 1-800-795-4068 or send us an email.