AFCU-200.0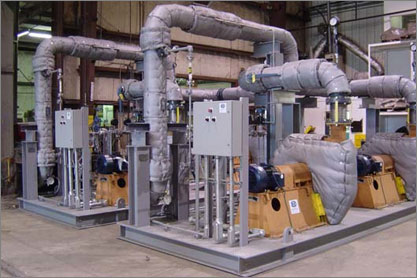 Hot Ammonia Flow Control Modular Package
Skid-Mounted Modular System, Engineered-to-Order
Integrated Flow Solutions AFCU Series Ammonia Flow Control Units are designed to control the flow of ammonia from the Ammonia Storage / Forwarding System into an air or flue gas stream. The air is typically pressurized and heated with an electric process heater or low pressure steam. The hot flue gas is available from the gas turbine exhaust. The hot air or flue gas vaporizes the ammonia prior to injection into the Ammonia Injection Grid (AIG).
Benefits:

Single Source Accountability
Pre-Packaged Modular Design Costs Less than component based site built which reduces overall project cost
Minimizes field erection time – shorter overall project delivery schedule
Complete system function testing prior to shipment
24/7 Customer service

Industry Standards:

Piping designed to ANSI B31.1/ANSI B31.3
Pipe fabrication to ASME Section IX
Structural Steel Assembly Designed to AWS D1.1
Complete system designed to API RP 550

Standard Features:

Heavy Duty Single or Multistage Centrifugal Air Blowers - Arrangement 4, 7, & 8
Integraheat™ Electric Process Air Heating with full Thyrister Power Controls, Motor Interlock and Redundant Safety Shutdown System
Locally mounted PLC based control system per NEC & NFPA
Vaporization using Co-Current Mixing or Counter Flow Contact Technology
Complete factory function test

Process Parameters:

Vaporized Ammonia – up to 4,000 #/hr
Exhaust temperatures – up to 800F
Discharge pressures – up to 6 psig

Utility Requirements:

Heat Source: Hot Flue Gas
Blower Motors – up to 300 HP, 3 Phase, 50/60 Hertz
Instrument Air

Optional Features:

Complete Factory Performance Test
UL or CSA Listed Control Heater & Control Panel Assembly
Class 1, Div 2 Hazardous locations
Compliance with Plant / Engineering Specifications

Additional Services:

"Aspen Plus" Process Simulation Software used to guarantee process conditions
Installation / Training / Start – Up Supervision
Extended warranty
Nationwide Service Network

For a modular Anhydrous Hot Ammonia Flow Control Modular Package (or similar unit) skid-mounted and engineered-to-order, call 1-800-795-4068 or send us an email.