SCIS-100.0
Chemical Injection/Feed Systems
Skid-Mounted Modular Packages With Chemical Metering/Dosing Pumps, Engineered-to-Order
IFS Standard Chemical Injection Systems are predesigned, packaged and fully tested for a wide range of liquid chemical treatment applications.The complete system includes a chemical storage tank, two 100% metering/dosing pumps, instruments, tubing, valves, calibration column and filtration.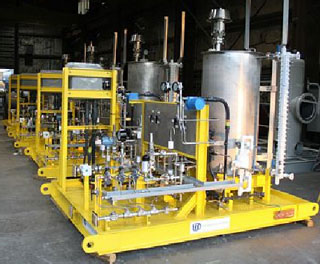 Why a Modular
System?
Costs Less
Higher Quality
More Reliable
Shortest Delivery Cycle
Delivered Ready for Operation
Single Source Accountability
Services
Design Consultation
Project Management
Engineering & Design
Process Simulation
Manufacturing
Commissioning/Start Up
Routine Maintenance
Spare Parts Support/Supply
Benefits
Single Source Accountability
Pre-Packaged Modular Design Costs Less than component based site built which reduces overall project cost
Minimizes field erection time – shorter overall project delivery schedule
Complete system function testing prior to shipment
24/7 Customer service (800-527-8724)
Industry Standards
Chemical storage tank meet UN31A
Piping/tubing designed to ANSI B31.1/ANSI B31.3
Structural Steel Assembly Designed to AWS D1.1
Standard Features
Flows From 0.1 – 1000 GPH
Pressures From 50 – 1800 PSIG
Heavy Duty API 675 Metering/Dosing Pumps or API 674 Reciprocating Pumps with

Packed Plunger Fluid End
Single Diaphragm Fluid End

Totally Enclosed Fan Cooled (TEFC) Motors
Standard Features (Continued)
Intermediate Bulk Container (IBC)

304SS Standard Construction
UN31A Rated
Sloped Bottom

316 Stainless Steel Materials Of Construction

Alloy 20
Non-Metallic (PVC, CPVC)

Offshore Ceram Kote Paint System
Large Dial Liquid Filled Pressure Gauges
Optional Features
High And Low Level Switches
Tank Gooseneck or Flame Arrestor
316 Stainless Steel Tank
Discharge Pressure Instrumentation
Start/Stop Station
Skid Drain Pan
Alloy 20 & Non-Metallic (PVC, CPVC) Materials Of Construction
Additional Services
Installation / Training / Start – Up Supervision
Extended warranty
Nationwide Service Network
Customized Systems

For a modular Chemical Injection Package (or similar unit) skid-mounted and engineered-to-order, call 1-800-795-4068 or send us an email.