HTHO-100.0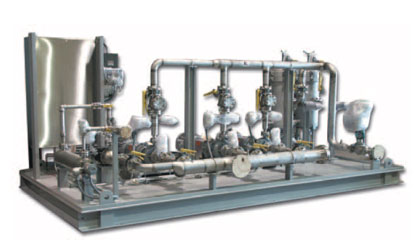 Heat Transfer/Hot Oil Package
Skid-Mounted Modular System, Engineered-to-Order
Integrated Flow Solutions Heat Transfer/Hot Oil Systems are designed to store and transfer heat transfer fluids used for industrial heating. The heat transfer fluid is normally stored in an elevated insulated vessel skid mounted. Special high temperature centrifugal pumps are used to circulate the heat media fluid from the storage tank through an electric process heater, gas fired heater or exhaust heat exchanger. The heat transfer fluid's elevated temperature is then used to safely heat a process system and is then returned to the storage vessel.
Benefits

Single Source Accountability
Pre-Packaged Modular Design Costs Less Than Component Based Site-Built Systems Reducing Overall Project Cost
Minimizes Field Erection Time - Shorter Overall Project Delivery Schedule
Complete System Function Testing Prior To Shipment
24/7 Customer Service

Industry Standards

Vessels Code Stamped ASME Section VIII & National Board Registered
Piping Designed to ANSI B31.1/ANSI B31.3
Pipe Fabrication to ASME Section IX
Structural Steel Assembly Designed to AWS D1.1

Standard Features

Special Centerline Mounted or Vertical Inline
High Temperature Centrifugal Pumps Designed for Thermal Growth
Thermal Pipe Stress Analysis to Prevent Pipe Rupture & Increase Equipment Life
Cellular Glass Insulation for Easy Leak Detection and Fire Prevention

Standard Features (Continued)

Double Drop and By-Pass Expansion Tank for Venting of Low Boilers
INTEGRAHEAT Electric Process Heaters

Heat Transfer Oils - (15W/In2) To Reduce Coke Buildup and Maximize Oil and Heater Life
Water - (45W/In2) To Minimize Scale Buildup and Maximize Heater Life
TriEthylene Glycol - (12W/In2 - 15W/In2) To Minimize Degradation and Extend Heater Life

On-Skid Across-the-Line Starting Control Panel Wired to Electric Motors

Optional Features

Metal Fiber Filters in 5-10% Slip Stream Flow to Prevent Fouling of System
Ladder and Platform for Expansion Tank Access
Air Cooler for Quick Shutdown
API 610 Centrifugal, Canned Motor or Mag Drive Pumps
PLC Control System with Data Highway
IEC/CENELEC/CSA Compliant Control Panel, Conduit and Wiring
Compliance with Plant/Engineering Specifications

Additional Services

Nationwide Service Network
Installation/Training/Start-Up Supervision
Equipment Leasing Program
Extended Equipment Warranties
"Aspen Plus" Process Simulation Software to Guarantee Process Conditions

For a modular Heat Transfer/Hot Oil Package (or similar unit) skid-mounted and engineered-to-order, call 1-800-795-4068 or send us an email.