FGCS-100.0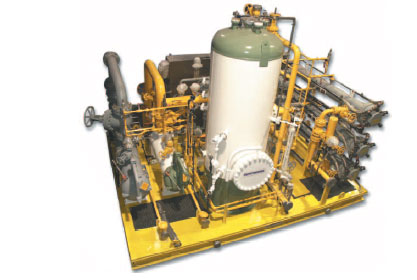 Fuel Gas Conditioning Package
Skid-Mounted Modular System, Engineered-to-Order
Integrated Flow Solutions Fuel Gas Conditioning Systems are designed to protect natural gas fueled engines and turbines from liquid slugs, solids (< 0.1 microns) and liquid aerosols. Additionally, the fuel gas is superheated above the hydrocarbon and water dew points to prevent liquid condensation in the turbine's combustion chambers. These systems meet or exceed reciprocating engine and turbine manufacturers' fuel gas quality specifications providing dry, clean fuel to increase the life of the equipment.
Benefits

Single Source Accountability
Pre-Packaged Modular Design Costs Less Than Component Based Site-Built Systems Reducing Overall Project Cost
Minimizes Field Erection Time - Shorter Overall Project Delivery Schedule
Complete System Function Testing Prior To Shipment
24/7 Customer Service

Industry Standards

Vessels Code Stamped ASME Section VIII & National Board Registered
Piping Designed to ANSI B31.1/ANSI B31.3
Pipe Fabrication to ASME Section IX
Structural Steel Assembly Designed to AWS D1.1
API 14C for Offshore Applications

Standard Features

Process Validation/Guarantee Using "Aspen Plus" Simulation Software
ASME Scrubbers/Separators/Coalescers/Filters
INTEGRAHEAT Electric Process Heaters
TEMA Shell & Tube Exchangers
Class 1, Div. 2 Hazardous Locations
Local Control Panel

Optional Features

Ladder and Platfrom for Vertical Filter Access
MichellTM Instruments Hydrocarbon and Water Dewpoint Measurement and Control
IEC/CENELEC/CSA Compliant Control Panel, Conduit and Wiring
PLC Control System with Data Highway
NACE MR-01-75 Latest Edition for Sour Service
Pneumatic Pressure Test After Re-Assembly
Third Party Inspection by ABS, Lloyd's and DNV
Compliance with Plant/Engineering Specifications

Standard Designs

Power

Frame Size Gas Turbines
Aero-Derivative Size Gas Turbines

Oil & Gas

Cross Exchanger Design That Recovers Heat Loss From Pressure Drops

Additional Services

Installation/Training/Start-Up Supervision
Extended Equipment Warranties
Nationwide Service Network

For a modular Fuel Gas Conditioning Package (or similar unit) skid-mounted and engineered-to-order, call 1-800-795-4068 or send us an email.