IFS Ammonia Tank Farms Come With Complete Instructions
September 21, 2015 Welcome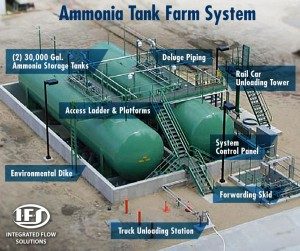 Example of a complete Ammonia Tank Farm designed by IFS. Includes (2) Ammonia Storage Tanks, Truck Unloading Station, Rail Car Unloading Tower Package, Forwarding Pump Skid Package, Deluge Piping, Access Ladders and Platforms,
One very important service IFS provides to our customers is Operating Documentation (a.k.a. Control Narrative) that includes detailed instructions in the operation of our units and systems. Such is the case with Ammonia Tank Farms used for SCR, and an example of this is the Control Narrative Tank Farm we scripted for the Black & Veatch Sandy Creek Project.
IFS engineered and fabricated the entire B & V tank farm system using modular process units that included:
Aqueous Ammonia Truck Unloading Station
Ammonia Storage Tanks (consisting a two-tank farm)
Forwarding Skid
Vaporizer Skid
Dilution Air Packages
Operation and control of each process unit is covered in the documentation.
In brief, ammonia is delivered by truck or rail car and unloaded into one of the two ammonia storage tanks. On demand, the anhydrous liquid ammonia is forwarded to the ammonia flow control unit (AFCU) where the ammonia is diluted with air blowers and vaporized with electric heaters.  The vaporized ammonia is injected into the catalyst bed of the SCR as the combusted turbine exhaust passes through.  NOx is converted to N2 and H2O.
To see the detail covered in the Operating Documentation, download the Ammonia-Tank-Farm-System-Control-Narrative
Other Ammonia Tank Farm Options
Multiple Ammonia Storage Tanks
Rail Car Unloading Tower
Tanker Truck Unloading Package
Ammonia Flow Control Unit
Electric and Steam Vaporizers
System Control Panel
Access Ladders and Platforms
Deluge Piping
Environmental Dike
Other modular units as per your specification
More Tank Farm Services
"Aspen Plus" Process Simulation Software used to guarantee process conditions
Onsite Installation / Training / Commissioning / Start – Up / Maintenance
Extended warranty
Global Service Network
————————————————————————————-

Detailed Operating Documentation is supplied with each process unit and system we build.

See Also:
Power & SCR DeNOx Modular Packages Engineered Ready to "Plug-In"

«