Power & SCR DeNOx Modular Packages Engineered Ready to "Plug-In"
April 28, 2015 Welcome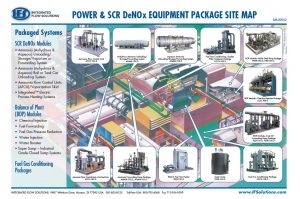 Site Map for IFS Power & SCR DeNOx Packages. 
IFS engineers and manufactures modular packages for Gas and Coal Fired Simple Cycle and Combined Cycle power plant projects that require SCR DeNOx, Balance of Plant (BOP) and/or Fuel Gas Conditioning modules. Units can be original to a project or a replacement for an existing unit. Either way packages arrive ready to "plug into" your process system.
SCR DeNOx Packages
Both Gas Fired and Coal Fired Power plants create NOx from the burned fuel. DeNOx or NOx Removal is normally accomplished with a Selective Catalytic Removal (SCR) unit. The burned hydrocarbon is ducted into the SCR where aqueous or anhydrous ammonia is injected prior to a catalyst bed. The ammonia and burned hydrocarbon are catalyzed into N2 and H2O. Some of the DeNOx packages IFS can supply (but not limited to) include:
Balance of Plant (BOP) Packages
Balance of Plant (BOP) Packages support Simple Cycle and Combined Cycle Power Plants, including Pressure Reduction Stations, boiler feed pump packages, chemical injection pump packages, closed sump packages, Integraheat Process Heating Packages, and many other packages.
Fuel Gas Conditioning Packages
Gas Fired Combined Cycle Power Plants require clean, dry natural gas as fuel. IFS's Fuel Gas Conditioning Membrane Filtration Packages remove particles and liquids from natural gas, in the pipeline, then superheat the gas to a target temperature (normally 50 F) above the dew point. This "conditioned gas" is provided for varying inlet gas conditions and varying ambient conditions. IFS loads the multiple gas and ambient conditions into a process simulation program (Aspen Plus dynamic process), then selects equipment to meet the most rigorous conditions.
To learn about the many cost-and-time-saving advantages of modular packages over stick-built units on a project, see Modularized Fabrication vs Stick Built Construction of a Process Unit.
View the IFS Power & SCR DeNOx Equipment Package site map  to see how IFS's modular products "Plug Into" Simple Cycle and Combined Cycle power plants.

«