IFS Displays at POWER-GEN International
December 12, 2014 Welcome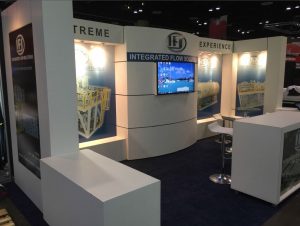 IFS participated in the POWER-GEN International exhibition held at the Orange County Convention Center in Orlando Florida December 2014.
What is POWER-GEN?
POWER-GEN International is the power generation industry's annual exhibition of trends, technologies and issues facing the power generation sector. IFS and 1,400 power generation related companies from all sectors of the industry exhibited to more than 22,000 attendees. IFS has exhibited at the show for the last 15 years.
The IFS Message: Extreme Experience
IFS's 2014 Power Gen International message was "Extreme Experience." The message emphasized the need for experience in dealing with some extreme competitive demands facing the power generation industry. IFS's Extreme Experience provides customers with "…A proven partner when projects matter to you…".
Who is IFS?
IFS is marking our 35th year in business developing solutions for the power generation industry in extreme conditions ranging from Arctic cold to desert heat. From complex new projects to major upgrades of existing installations, we are proud to be your proven partner when projects matter.

«