IFS Mission, Vision, Core Values & Goals
April 10, 2018 Welcome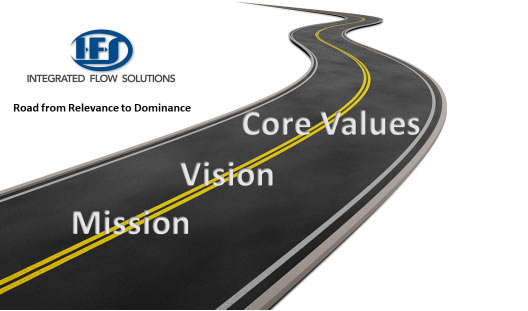 IFS was founded in 1979.  After almost 40 years of business activity, IFS is preparing for new growth, a fresh look at where we've been, and examine where we're headed.
IFS's Management recently met to discuss our growth plans and refine IFS's Mission Statement, Vision, Core Values & Goals.
IFS Mission Statement
The IFS Mission Statement defines the "What" of our business. Our mission is what we do. It's a picture of our company in the present moment.
IFS Mission
Our Mission is to provide value to clients and supply chain partners through design, manufacturing, and service of equipment & process solutions while maintaining a commitment to excellence and the best interest of our employees and shareholders.
At IFS we all work together to develop the relationships necessary to turn our customers into clients. By meeting or exceeding our clients' expectations, we aim to secure their repeated business, gain a better understanding of their needs and what they value most.
There are many ways to create value, and customer priorities may not always be the same. We have clients that value us meeting a high quality standard while others expect us to have a shorter lead time, meet complex design specifications, offer low prices, or to simply be an "easy company to work with."
IFS Vision Statement
The IFS vision statement describes our desired position for the future and "Why" we execute the mission every day.
IFS Vision
Our vision is to be recognized by customers and competitors as a World Class Organization, ranked globally among the best.
To be World Class means to be a global leader that other companies and industries look up to. We are not here for the participation trophy, we are here to lead.
IFS Core Values
The IFS core values are the principals and ideals that create the ethical framework of our company's culture. Our core values are "How" we'll guide our decisions and develop the winning habits that we need to achieve our goal.
Customer Focus
Teamwork
Passion for excellence
Safety Conscious
Improvement
Communication
Professionalism
Empowerment
Ownership
Accountability
IFS Goals and Objectives
If our goal at IFS is to become a World Class Organization through providing value to clients and being committed to excellence, then we need a means to measure our progress.
This is where our company's objectives come into play:
$100MM by 2020
10% EBITDA
In under three years, we aim to realize $100MM in revenue with 10% EBITDA. These objectives will bring life, and a sense of urgency to our goal.

Focused in our mission, guided by our core values and fueled by our goals and objectives, IFS will realize our vision of becoming a World Class Organization, and reach the next milestone in our company's story.

«