Project Cargo Management, No Matter the Size or Weight
January 8, 2016 Welcome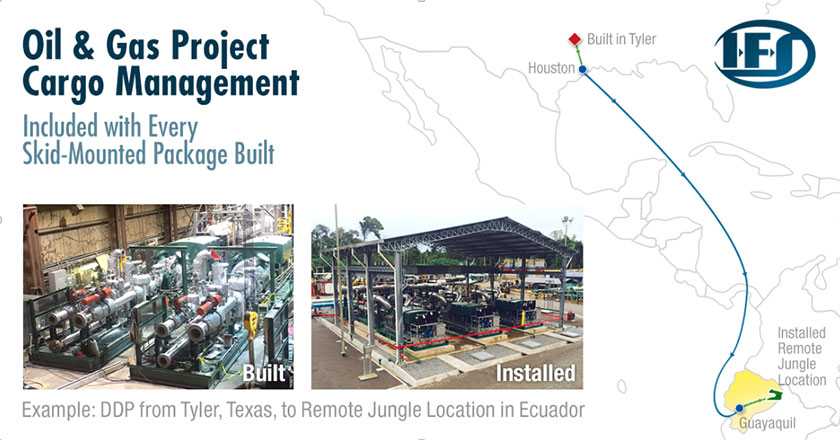 IFS is a process engineering company that builds and ships "Engineered-to-Order" process packages for our Oil & Gas customers worldwide, however remote the location and however extreme the environment, no matter the size and the weight.
The project cargo management process for shipping these packages to customer work sites is done in accordance with the International Chamber of Commerce (ICC) Incoterms 2010 "Rules for Any Type of Transport."
Two common modes of customer specified transportation and project cargo management that customers require include:
 Ex Works Rules (The customer bears all the risks and costs of project management)
IFS customer contracts can specify simple Cargo Management, like "Ex Works".  Incoterms 2010 defines "Ex Works" as follows:
"The seller fulfills his obligations by having the goods available for the buyer to pick up at his premises or another named place (i.e. factory, warehouse, etc.). Buyer bears all risk and costs starting when he picks up the products at the seller's location until the products are delivered to his location. Seller has no obligation to load the goods or clear them for export."
 Delivered Duty Paid (DDP) Rules (IFS bears all the risks and costs of project management)
Alternatively, IFS customer contracts can specify more complicated Cargo Management, like "Delivered Duty Paid" (DDP).  Incoterms 2010 defines "DDP" as follows:
Seller bears all risks and costs associated with delivering the goods to the named place of destination ready for unloading and cleared for import."
Now that may not sound all that  complicated, unless the destination is extreme like the jungles of Ecuador.
DDP from Tyler Texas to Remote Jungle in Ecuador
IFS recently completed a large project where the contact specified DDP for Petroamazonas, the National Oil Company in Ecuador.
IFS engineered, designed, fabricated and packaged these complex modules at our Tyler, Texas facility. The units were fully tested prior to shipment.
Once tested, IFS arranged for the packages to be export-boxed and shipped to Houston, Texas via trucks, to be loaded on a cargo ship. The cargo ship made its way through the Panama Canal headed for the port city of Guayaquil, Ecuador, the largest and the most populous city in Ecuador.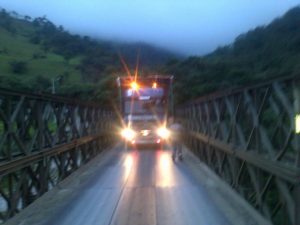 In Guayaquil, the packages were unloaded, passed through customs and transferred to six (6) large trucks with the maximum weight capacity of 60,000 lbs/truck. The trucks transported their package over narrow roads and bridges to a remote well site in the jungle.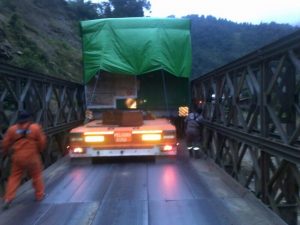 The bridges were particularly hazardous. With only a few inches of clearance on both sides, the bridges could barely accommodate the heavily burdened trucks.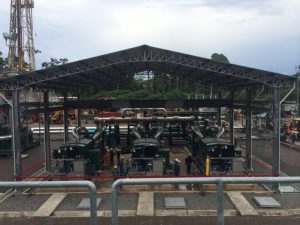 The packages arrived safely at the site where they were installed and mounted on a concrete foundation to minimize traffic to the site, the number of construction workers and the amount of heavy earth moving machinery on the site and environmental impact overall.  Finally, IFS professionals assisted with commissioning and start up.

See for all Incoterm Rules, Incoterms® 2010 Quick Reference Chart 

«