IFS Field Maintenance Services & Programs
Custom Engineered Skid Mounted Modular Process Systems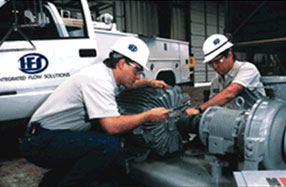 Integrated Flow Solution's Product Support Department is proud to offer a Field Maintenance Services Contract to our customers. Our services are often offered in lieu of extended warranty periods to provide continued support from experienced technicians familiar with our systems and their operations.
Our Field Technicians are supported by our Engineering Departments, 24-hour Product Support Department, Parts Department and expedited services of our vendors. Service technicians are factory trained and travel worldwide to provide commissioning, start-up, and routine maintenance.
IFS's experience and support of these systems make these services worthwhile for our customers.
Field Services available as Part of a Maintenance Services Contract:
1. Vibration Analysis and Condition Monitoring
IFS service technicians are ISO 9001 Level 2 Certified Vibration Analysts proficient in the latest technologies including:
Ludeca/Pruftechnik Vib Expert 2 Analyzer with balancing capabilities.
Omnitrend Data Base for Vibration Analysis and Condition Monitoring.
Typical service include:
Base line vibration readings will be taken on all rotating equipment to ensure equipment is operating within specified tolerances
Vibration data will be entered into our Omnitrend data base.
Alarm levels and equipment routes will be established for future analysis that will immediately identify areas of concern.
Fan, blower and pump balancing can also be accomplished if needed.
2. Ludeca Rotalign Laser Alignment
Existing equipment can be hot aligned using our laser alignment tool for optimal operation. Alignment data can be recorded and printed for future reference.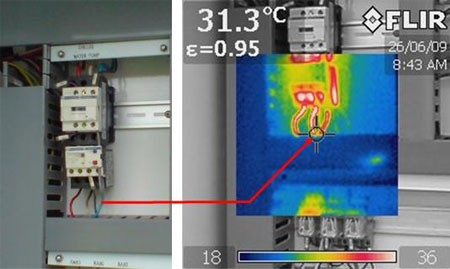 3. Thermal Imaging
All electrical panels and connections will be scanned with a thermal camera for evidence of hot spots. Hot spots indicate a bad component or connection that could lead to equipment failure.
4. Equipment Evaluations
An overall inspection of all major equipment will be performed including all pumps, blowers, heaters and associated instrumentation. Performance data will be compared to original specifications to ensure components are functioning as designed.
All associated instrumentation will be inspected per our I/O Checklist. I/O Check List
Heater Megger check will be done. Heater Check
5. Start-Up/Shutdown Procedures
Under an Ongoing Maintenance Services Contract, IFS will assist your plant personnel in developing Startup/Shutdown Procedures.
Operating conditions will be specified under normal and emergency situations.
Procedures will be derived from the system Control narrative. Control Narrative Example
6. PSVs & Ammonia Leak Detectors Calibration & Maintenance Schedules
Under an Ongoing Maintenance Services Contract, IFS will assist your plant personnel in developing schedules for calibration of PSVs and ammonia leak detectors
Technicians will also assist in the creation of maintenance schedules. Items requiring re-calibration will be identified on the instrument list and set up to identify future calibration due dates.