[VIDEO] Steel-Frame Modular Pump Enclosures from IFS
January 28, 2020 Welcome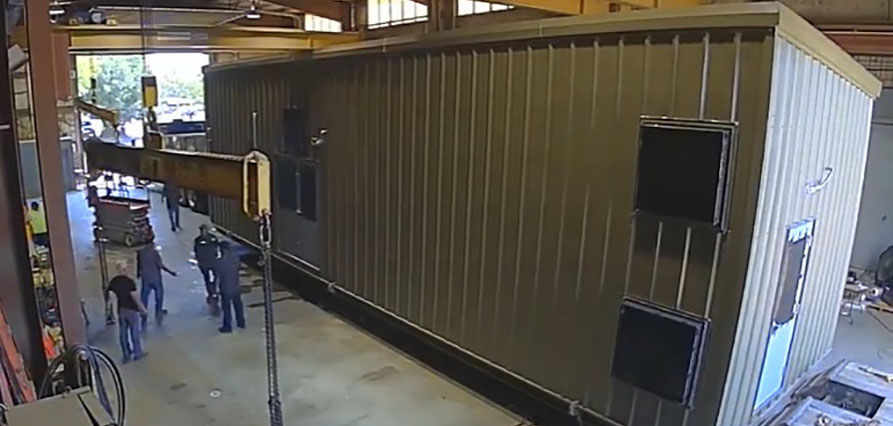 In 2019, IFS was contracted by Crestwood Midstream to design and fabricate a Produced Water Booster Pump Package. The pumping equipment would be housed in a weatherproof pump enclosure suitable for extreme North Dakota winter conditions.
The building needed to be certified, inspected and labeled in accordance with State of North Dakota Building, Mechanical, Electrical, and Fire Codes. The Produced Water Booster Pump Package was required to carry a North Dakota Professional Engineering Stamp.
Industrial Pump Enclosure Layout and Classifications
The pump shelter would be segregated into two rooms separated by a solid wall and vapor barrier. The main process room would house all the mechanical pumping equipment, piping, and valves with a Class I Division 2 hazardous area classification. The Motor Control Center (MCC) room would house electrical equipment, VFDs and motor starters with an Unclassified hazardous area classification.
Once the process equipment layout was complete, IFS package engineers began to tackle the weatherproof building enclosure. IFS decided to purchase a "building kit" from a local metal building supplier and assemble the prefab pump house with IFS labor. After several outline drawing exchanges with the metal building supplier, IFS released the "building kit" for construction.
Pump Shelter Construction Process
Building a pump house was more challenging in this instance since the Crestwood Midstream design included a 2.5 ton bridge crane to service the equipment in the main process room. The "building kit" included the structural red iron, intermediate members, interior/exterior panels, and all trim. The building kit shipped to IFS where it was received and staged for assembly.
The prefab pump house building assembly was started while the process equipment was in final assembly. The building structure was assembled first, then the intermediate members. The interior panels were then installed so the building electrical outfitting could proceed. Most of the building electrical equipment was attached to the interior panels.
Spray foam insulation was applied to the outside of the interior panels, then the exterior panels were installed. Spray foam insulation was also applied to the underside of the structural steel skid. The building partition was installed to separate the Class 1 Division 2 hazardous area classification from the MCC room which was unclassified. Finally, the building doors and windows were installed.
IFS Is a Trusted Pump Enclosure Fabricator
When it comes to prefab equipment enclosures, IFS can deliver nearly any specifications you need. In fact, our packaged building pumping solutions are modular and can include optional NEMA or IEC rated enclosures and components for Class 1, Div. 1 or Div. 2 electrical areas.

Contact IFS today to see how we can meet your needs! When you think pump enclosure suppliers – think IFS!

See full timelapse video.

«