What Is Chemical Injection – Process in O&G IFS
February 27, 2020 Welcome
As with all other industrial and manufacturing industries, companies in the upstream O&G industry are always seeking to improve their production capacities, improve overall process efficiency and minimize machinery downtime.
Chemical Injection Packages are being employed by companies in oil and gas to increase production, reduce corrosion, separate oil/gas/water, and many other processes to improve the profitability of all exploration and recovery efforts.
This article will explain some of the typical Oil & Gas Chemical Injection processes in more detail, highlight reasons that oil and gas facility operators find Chemical Injection very advantageous, and describe the major components that make up a Chemical Injection Package.
What Is Chemical Injection?
A Chemical Injection process involves the introduction of specialized chemicals to the oil & gas flow stream or reservoir to perform certain specific processes.  The specialized chemicals can be injected into the produced oil & gas flow stream from the wellhead or can be injected through an annulus downhole into the oil and gas reservoirs.
Produced Well Stream Chemical Injection
Specialty chemicals injected into a produced oil & gas well stream can be used to improve separation, reduce foaming, and reduce corrosion.  Many other applications also exist.  Normally, these Chemical Injection Packages include tanks, metering pumps, instrumentation, piping and controls skid mounted for easy installation.  Here is a typical Produced Well Stream Chemical Injection package.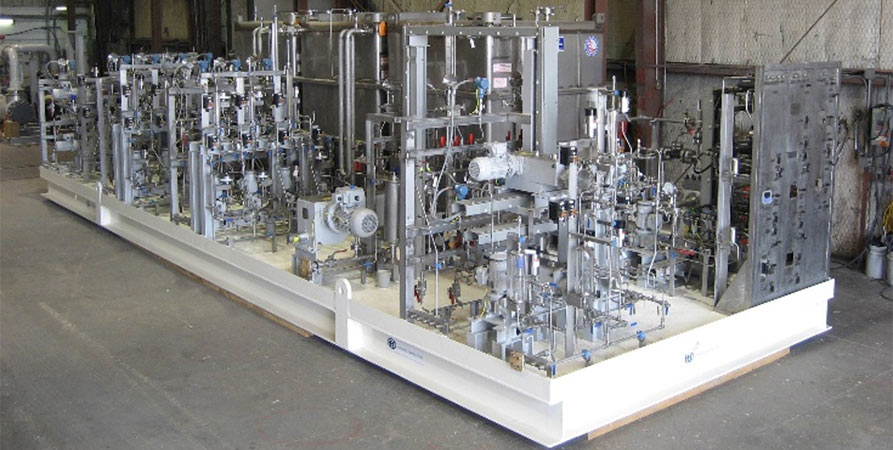 Enhanced Oil Recovery
Chemical injection systems can be deployed in a variety of Enhanced Oil Recovery applications onshore and offshore. These Chemical Injection Packages inject viscosity increasers to improve the sweep through a reservoir improving the production of oil & gas recovery. These Chemical Injection Packages are normally installed close to the water injection sites.  Here is a typical Enhanced Oil Recovery Chemical Injection package: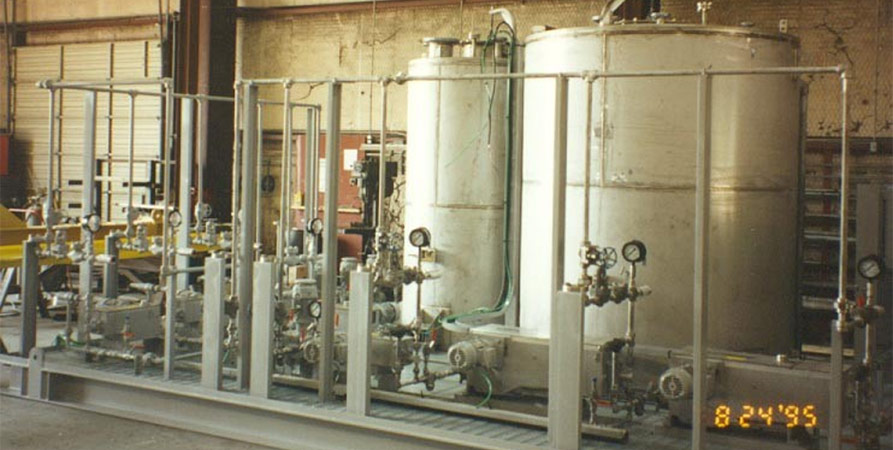 Benefits of Chemical Injection in Oil and Gas
Using a chemical injection system to assist oil and gas recovery has various benefits including:
Cost-effectiveness
Portability
Instrumentation and safety shutdown valves prevent harm to operators and machinery
Decreased repair downtimes
Safe deployment in hazardous environments
Easy installation and maintenance
Main Components of a Chemical Injection System in Oil and Gas
A fully functional chemical injection system has various components that function together to optimize productivity in the oil and gas industry. Although variations may occur depending on end-user preference, the components listed below are typically present in one form or the other.
Chemical Injection Storage Tanks
Storage tanks are indispensable to the process of chemical injection in oil and gas. These vessels house the vital chemical solutions required to improve oil recovery, decrease foaming, enhance separation, and inhibit channel corrosion. These tanks can be custom-built to suit end-user specifications and space considerations. Tank structures include a range of shapes from rectangular, square, or cylindrical variants.
Metering Pumps
Equally important to chemical injection systems are the pumps used to convey the chemicals into the targeted oil formations. Injection pumps sustain a steady flow of chemical solution throughout a wide range of pressures for optimized performance. Chemical injection pumps can be plunger, diaphragm, and double diaphragm configurations powered by electric motors, pneumatic systems or solar energy.
Instrumentation
All chemical injection systems require instrumentation to monitor critical system parameters.  Typical instrumentation can measure suction tank level, metering pump flowrate, metering pump discharge pressure, pulsations, and temperature.  Multiple injection points can be managed by (1) metering pump and multiple injection rate control devices (IRCD) which separately meter the injection chemicals to individual injection points.  Here is a typical IRCD chemical injection package.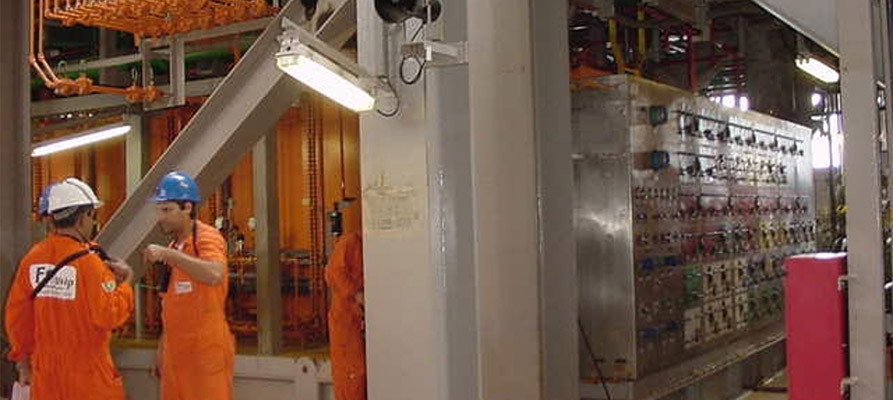 Skid-mounted instruments monitor and record logs of the operating conditions within an injection system. These units also help to predict and prevent adverse situations by performing automatic shutdowns. Apart from automated fail-safes, chemical injection systems may also possess inbuilt alarms and manual shutdown valves.
Suction/Discharge Piping & Valves
In order to carry the specialty chemical from the storage tank to the metering pump, suction piping and manual valves are installed on the chemical injection package.  Additionally, discharge piping and manual valves carry the high-pressure chemical from the metering pump to the skid edge, where the chemicals are routed to their final injection location.  Hardware components such as ball valves, gate valves, check valves, calibration columns, etc. are all a part of the overall chemical injection package
Skid Compatibility
Most chemical injection systems are skid-mounted. Compatibility with a steel skid mount allows safe transport and operation while providing structural protection to the system during routine operations. Process skid manufacturers like IFS have several solutions for your chemical dosing and injection needs.
IFS Provides Modular Chemical Injection Packages
At Integrated Flow Solutions, we are dedicated to providing you with the most efficient modular chemical injection packages. For project operators looking to gain a competitive edge in the oil and gas industry, IFS is the right fit.

Contact us online today for a quote or to learn more about the oil and gas industry solutions we provide.

«