Guide to FPSO Topside Process Modules Fabrication
February 25, 2020 Welcome
Offshore sub-sea oil & gas wells are highly productive in the modern Oil and Gas industry. According to the U.S. Energy Information Administration, offshore oil & gas production has accounted for about 30% of global crude oil production over the past decade.
Semi-submersible platforms, fixed platforms, spar platforms, tension leg platforms, and FPSOs are used extensively to harness the offshore oil & gas.
What Does FPSO Mean in Oil and Gas?
FPSOs are used most extensively for deepwater offshore oil & gas production.  FPSO stands for Floating Production, Storage, and Offloading. The term can refer to converted VLCCs (Very Large Crude Carriers), or purpose-built vessels.  Depending on world economic conditions, VLCC conversions may present a more economical and time-saving solution.  See below for a typical FSSO with 180,000 Barrel per Day processing capacity.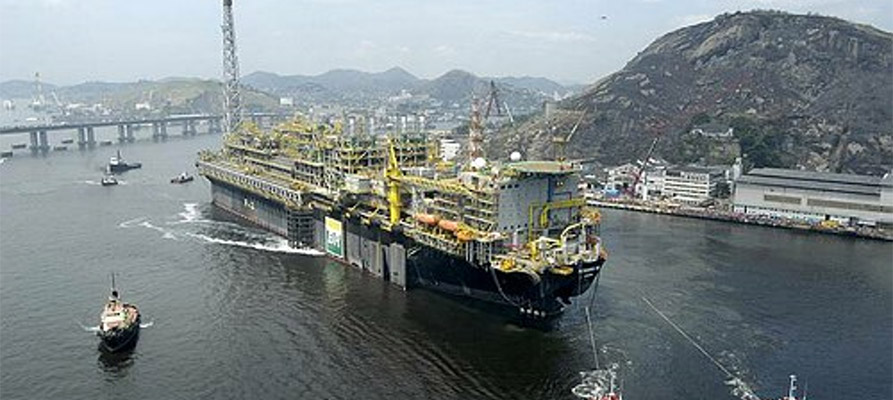 Purpose of a Floating Production Storage and Offloading Unit
Floating production, storage, and offloading vessels house oil and gas processing equipment and storage. These process systems are used in the separation, storage and offloading of oil and gas to shuttle tankers or transportation pipelines that take the product onshore.
Shell was the first company to build what is today recognized as an FPSO. In 1977, the company converted an oil tanker to help with oil production and storage.
Before FPSOs were common, only shallow-water oil and gas extraction was possible. Floating storage and offloading tankers (FSOs) were used to store and transport oil and gas to land for further processing. The Production part of an FPSO is what makes these units so valuable to the O&G Industry. Process skid manufacturers engineer, design, and build FPSO equipment used for separating oil, water, and gas that help streamline the production process.
FPSO Safety
Several of the nitrogen generation and purge gas process systems onboard an FPSO help improve the safety conditions on board. By using an inert gas like nitrogen to blanket and purge potentially hazardous chemicals, explosive conditions are mitigated.
IFS Provides FPSO Topside Process Systems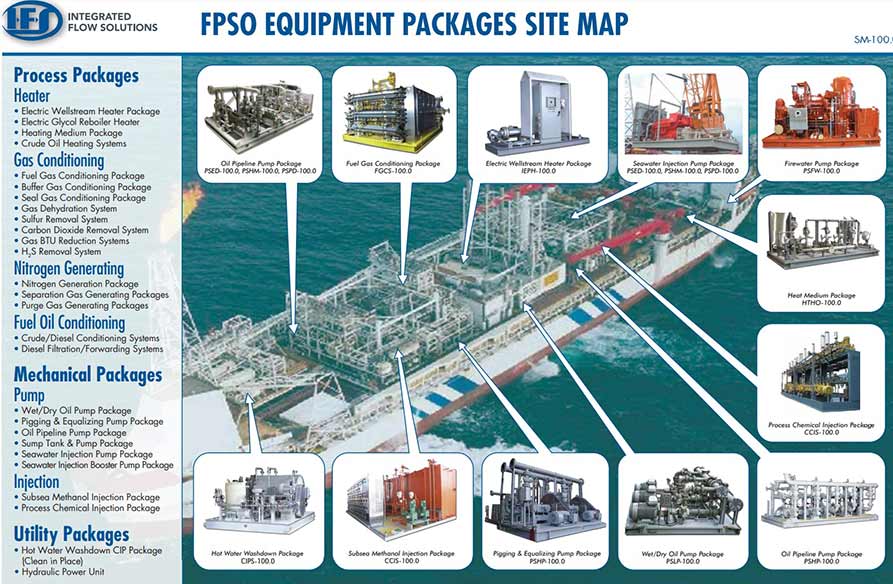 Integrated Flow Solutions provides process packages, mechanical packages, and Utility Packages for floating production, storage, and offloading units. Our team engineers and manufactures modular, skid-mounted, "ready-to-plug-in" equipment packages for operating under the most extreme conditions.
Look at the following process, mechanical and utility solutions available from IFS.
Process Packages
These packaged systems are at the core of what FPSOs do for the Oil and Gas Industry. Process simulation is key to selecting the most effective equipment. Our oil and gas process engineering and design services leverage the HYSYS software for conceptual design, optimization, and performance modeling of proposed solutions to meet your requirements.
Heating Equipment
Heating oil and gas is often performed to promote separation and improve the transfer of higher viscosity products. IFS offers the following heating solutions:
Electric Well Stream Heater Package
Electric Glycol Reboiler Heater
Heating Medium Package
Crude Oil Heating Systems
For example, our industrial hot oil heater, HTHO-100 is designed to store and transfer heat medium fluids used to heat your O&G process systems. The heat transfer fluids within are kept in an elevated insulated storage vessel that contributes to FPSO safety measures.
Gas Conditioning
Fuel gas conditioning is used on floating production, storage, and offloading vessels to protect your power generation and process equipment from solids, liquid slugs, and aerosols. These impurities could easily cause downtime on your vessels, making it critical to condition your fuel.  IFS offers the following Gas Conditioning solutions:
Fuel Gas Conditioning Package
Buffer Gas Conditioning Package
Seal Gas Conditioning Package
Gas Dehydration System
Sulfur Removal System
Carbon Dioxide Removal System
Gas BTU Reduction Systems
H2S Removal System
The IFS fuel conditioning system is one example of a modular process solution that can help provide dry, clean fuel to help extend your equipment life.
Nitrogen Generation
Nitrogen gas provides a fixed dew point for buffer gases, purging for export line commissioning, and reduces oxygen concentrations in high ambient temperature environments.  IFS provides the following Nitrogen Generation solutions:
Nitrogen Generation Package
Separation Gas Generating Packages
Purge Gas Generation Packages
The IFS skid nitrogen generator is an example of a cost-effective process solution that can help improve the safety of your FPSO.
Fuel Oil Conditioning
Diesel is commonly used to power diesel engines used for utility applications like cranes, firewater pumps, emergency generators, etc.  IFS offers the following Fuel Oil Conditioning solutions:
Crude Conditioning Systems
Diesel Conditioning Systems
Diesel Filtration Systems
Diesel Forwarding Systems
Mechanical Packages
FPSOs utilize Mechanical Packages for many functions offshore.
Oil & Gas Pumps
FPSOs utilize centrifugal & positive displacement pump packages for crude oil shipping, water injection, pigging pipelines, methanol injection, firewater, just to name a few.  IFS offers pumping package solutions for many offshore applications:
Wet Oil Pump Package
Dry Oil Pump Package
Pigging Pump Package
Equalizing Pump Package
Sump Tank
Sump Pump Package
Seawater Injection Pump Package
Seawater Injection Booster Pump Package
The crude oil pipeline pumps from IFS are packaged with the suction/discharge piping, valving, instrumentation, and controls needed to pressurize and transfer crude oil from storage to pipelines or shuttle tankers.
Injection
FPSOs utilize reliable dosing of specialty chemicals for corrosion control, foaming reduction, hydration, separation, etc.   IFS offers Chemical Injection solutions for:
Subsea Methanol Injection Package
Process Chemical Injection Package
The methanol injection package from IFS includes two metering/dosing pumps, along with the piping and instrumentation needed to support your chemical injections.
Utility Packages
Hot Water Washdown Clean in Place (CIP) Package
Hydraulic Power Unit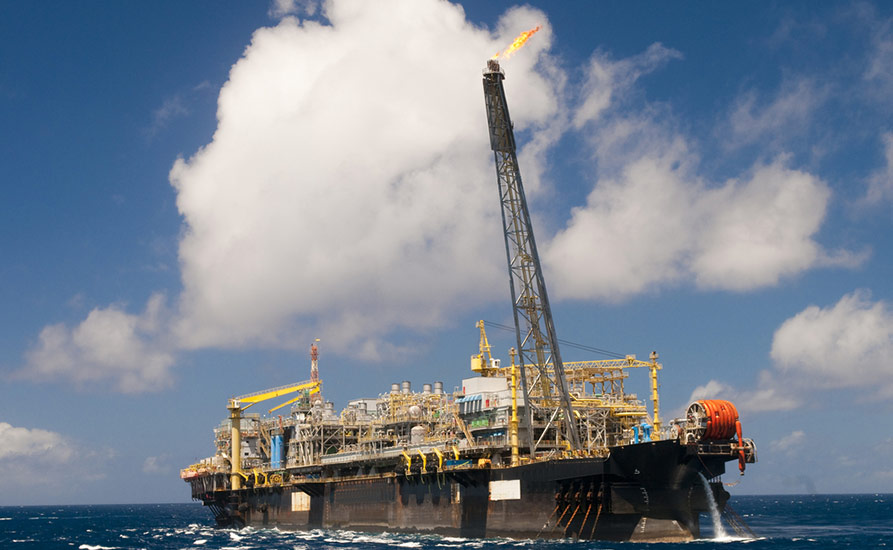 Trust IFS with Your FPSO Module Fabrication Today
When it comes to reliable FPSO operation, IFS has the process equipment required to get the job done right, every time. Our FPSO topside process systems are among the most reliable in the Upstream and Midstream O&G Industry.

Contact us online today for a quote or more information about our FPSO components!

«