PLBS-100.0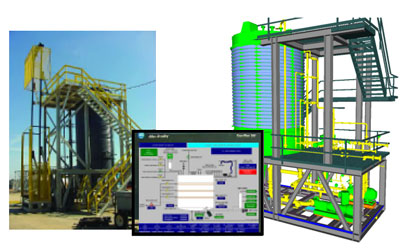 Lube Oil Blending Package
Skid-Mounted Modular System, Engineered-to-Order
IFS Packaged Liquid Blend Systems are designed to minimize on site installation costs by modularizing the complete Liquid Blending System - kettle, mixer(s), material lift, PLC controls, instrumentation, & electrical switchgear. Packaged Liquid Blending Systems are used for blending solid or granular polymers in a liquid base material. Typical applications include blending finished products such as motor oil base stock, asphalt extenders, paint and adhesives.
Benefits:

Single Source Accountability
Pre-Packaged Modular Design Costs Less Than Component Based Site Built Which Reduces Overall Project Cost
Minimizes Field Erection Time - Shorter Overall Project Delivery Schedule
Complete System Controls Function Testing Prior To Shipment
24/7 Customer Service

Industry Standards:

External Heating Coils Designed To ASME Section VIII & National Board Registered
Piping Designed To ANSI B31.3
Pipe Fabrication To ASME Section IX Procedures
Structural Steel Assembly Designed To AWS D1.1 & AISC

Standard Features:

Blending Types

Silverson® Bottom Entry Disintegrator With Inline Mixer
Rubber Mill With Blade Agitator

External Half Pipe Kettle Heating Coils
Polymer Material Lift
OSHA Compliant Work Station
Finished Product Sampling Station
Kettle Exhaust Containment/Management
PLC Controls With HMI
Equipment Prefitted Prior To Shipment
Area Seismic Structural Calculations
Site Interface Engineering
Multi Polymer Capable Optional Features
Material Handling Polymer Bale Vacuum Lift
Pre Heater Package Including Shell And Tube Heat Exchanger And Kettle Multizone Temperature Control
Upper & Lower HMI Station
Compliance With Site Approved Manufacturers List
All NEMA Or IEC Rated Enclosures And Components For Class 1, Div. 1 Or Div. 2 Electrical Areas

Additional Services:

Nationwide Service Network
Coordination Of Assembly With Site Constructor
Equipment Leasing Program
Extended Equipment Warranty

For a modular Lube Oil Blending skid-mounted and engineered-to-order, call 1-800-795-4068 or send us an email.