Renewable Energy Growth – Could Renewables Power the World?
October 27, 2020 Welcome
Traditional sources of energy have been burdening the natural environment for decades and the world has been making a gradual shift towards more sustainable means of powering our domestic and industrial activities.
Types of renewable energy are environmentally-friendly and can potentially substitute a large percentage of conventional fuels. However, the right resources and infrastructure must be developed to further stimulate renewable energy sector growth.
Why Don't We Use More Renewable Energy?
Despite an increased level of awareness about the correlation between climate change and the increased use of renewable energy as a possible solution, there seems to be a less enthusiastic adoption of alternative energy worldwide. While many individual polls seem to indicate the willingness of the public to adopt alternative sources of energy for their daily needs, the political scene is less unanimous in its stance.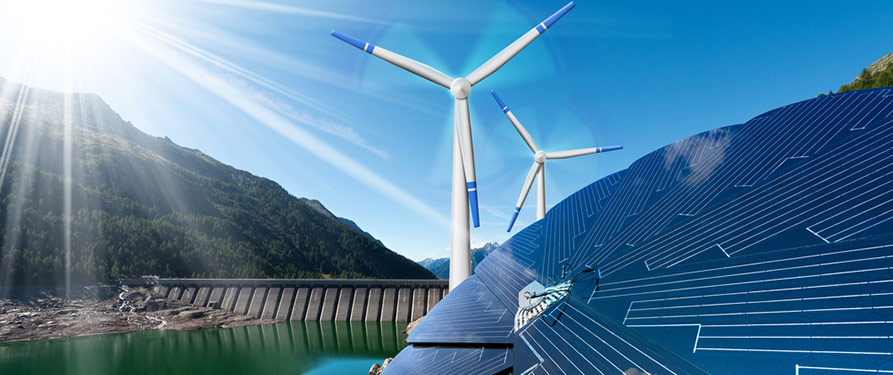 A U.S survey conducted by the Pew Research Center indicated that two in every three adult Americans felt the need to prioritize alternative sources of energy like wind and solar over traditional fuels like coal and natural gas. When factoring political ideologies into the mix, the survey revealed a sharper divide in opinions.
Although there seems to be widespread support for the development of renewable energy across the political divide, differing opinions on how to approach renewable energy growth by key policymakers have slowed its actual implementation.
Renewable Sector Growth Outlook
Given the obvious benefits of increasing renewable usage (on environmental health), a significant proportion of the world's nations are making efforts to transition from traditional sources of energy, such as fossil fuels, to cleaner, more environmentally-friendly alternatives.
In the US, renewable energy sources are rapidly gaining momentum with surges in the last few years placing them in direct competition with more traditional fuel types. One example of this positive renewable energy outlook has to do with electricity from coal.
According to data published by the U.S Energy Information Administration (EIA), by April 2019 electricity generated from renewables had surpassed the amount generated from coal-fired power plants for the first time. Electrical energy derived from hydropower, wind, geothermal, biomass, and solar sources contributed a combined 23% of the total when compared to 20% generated using coal.

This trend is largely due to active legislation and enforcement of policies aimed at a focus shift to renewables. For example, the Renewable Fuel Standard (RFS) program enforced by the environmental protection agency (EPA) has made it compulsory for energy manufacturers to replace a percentage of their petroleum-based products with renewable fuel alternatives. This program, run in collaboration with the U.S Department of Agriculture and the Department of Energy, shows a clear commitment to the growth of clean renewable energy.
Unfortunately, with the onset of the COVID-19 pandemic, the demand for renewable energy sources has taken a hit just like other energy sectors. With world governments grappling with overwhelming health crises, attention and resources have been rightly channeled to tackle the immediate concern.
While many countries had committed to various forms of programs to curb climate change pre-pandemic, they now face stiff challenges on resource control as their economies attempt to recover. While some experts fear the timing of the pandemic will have an overall negative effect on renewable energy growth, others feel it presents a unique opportunity for alternative energy to rally as global markets for traditional energy reels from the economic impact of COVID-19.

Is Solar Energy Becoming More Popular?
According to the data mentioned above, renewable energy is experiencing gains against conventional energy sources. Solar energy contributes a significant quota to the overall statistics. With the increasing popularity of clean energy, experts predict that solar and wind will power half of the world by 2050 with coal and nuclear power generation plants virtually non-existent in the U.S.
Is Wind Energy Becoming More Popular?
With rapid technological innovation driving down the costs of investing in wind energy, this form of renewable energy has gained popularity as a major means of electricity generation. Wind energy in combination with hydropower and solar accounts for more than a quarter of the world's electricity generation. Future estimates indicate these renewables will exceed 60% in China and India and 90% in Europe by 2050.
Could Renewables Power the World?
All this data begs the question – can the world run on renewable energy?
Although natural gas remains a key source of power generation worldwide, renewables are fast gaining traction. Low-cost, clean power has experienced rapid surges in Europe, China, and the US, overtaking fossil fuel use in many countries.
To help put this renewable energy boom into perspective, two of the fastest-growing professions in the U.S are solar installers and wind technicians. From all the indices available today, we can conclude that renewable energy could become the major source of power generation globally.
IFS Has Renewable Energy Market Solutions
At IFS, we offer the best engineering services and industrial process skids to clients involved in various industrial manufacturing sectors. IFS also provides efficient, environment-friendly renewable energy solutions for your renewable energy sector needs.

Contact IFS today to learn more about the full range of industrial solutions we offer.

«