FMS-100.0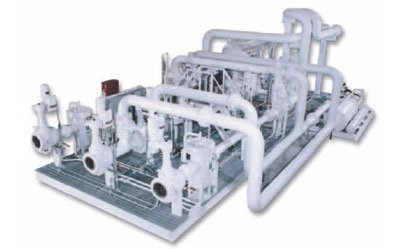 Custody Transfer Metering System
Skid-Mounted Modular System, Engineered-to-Order
Integrated Flow Solutions Fluid Metering Systems are designed for accurate measurement and sampling of various hydrocarbon liquids ranging in viscosity from 2 to 5,000 centistokes. The complete system includes inlet basket strainers, air eliminators, positive displacement or turbine flow meters, back pressure control valve, suction/discharge piping, valving, instrumentation, controls and is designed to minimize field assembly.
Benefits

Single Source Accountability
Pre-Packaged Modular Design Costs Less Than Component Based Site-Built Systems
Reducing Overall Project Cost
Minimizes Field Erection Time -
Shorter Overall Project Delivery Schedule
Complete System Function Testing
Prior To Shipment
24/7 Customer Service

Industry Standards

Vessels Code Stamped ASME Section VIII & National Board Registered
Piping Designed to ANSI B31.1/ANSI B31.3
Pipe Fabrication to ASME Section IX
Structural Steel Assembly Designed to AWS D1.1

Standard Features

PLC Control System with Flow Computer
Basket Strainer with PDI
Air Eliminator
Back Pressure Valve
Thermal Relief Valve
Turbine or Positive Displacement Flowmeter
Pressure Indicator & Transmitter
Double Block & Breed
Prover Connections
Hydrotesting of All Piping
High Quality Industrial Coating System

Optional Features

Rigid Structural Steel Base with Curbed Perimeter & Drain to Minimize Environmental Impact
Differential Pressure Switch on Strainer
Static Mixer
BS&W Monitor
Densitometer
Diverter Valve
Meter Prover (Bi-Directional)
Charge Pump
Sampling System
All NEMA or IEC Rated Enclosures and Components for Class 1, Div. 1 or Div. 2 Electrical Areas
Panel View Operator Interface
Microprocessor Controller with INTEGRAFLOWTM Control Software to Monitor Critical Functions & Provide Complete System Control
Complete String Test of Package

Additional Services

Nationwide Service Network
Utility System Optimization Studies
Turn-Key Projects
Equipment Leasing Program
Extended Equipment Warranties

For a modular Custody Transfer Metering System skid-mounted and engineered-to-order, call 1-800-795-4068 or send us an email.