CCIS-100.0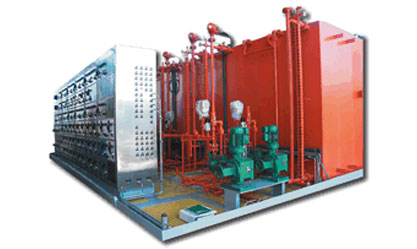 Process Chemical/Methanol Injection Package
Skid-Mounted Modular System, Engineered-to-Order
Integrated Flow Solutions Custom Chemical Injection Systems are designed to safely store and inject various chemicals into process flowlines. The chemicals are stored in skid mounted single or multi-compartment tanks. The chemicals gravity flow into the metering pumps which elevate the pressure to meet the process requirements. The complete system is designed to minimize field assembly.
Benefits

Single Source Accountability
Pre-Packaged Modular Design Costs Less Than Component Based Site-Built Systems Reducing Overall Project Cost
Minimizes Field Erection Time - Shorter Overall Project Delivery Schedule
Complete System Function Testing Prior To Shipment
24/7 Customer Service

Industry Standards

Vessels Code Stamped ASME Section VIII & National Board Registered
Piping Designed to ANSI B31.1/ANSI B31.3
Pipe Fabrication to ASME Section IX
Structural Steel Assembly Designed to AWS D1.1

Standard Features

Multi-Point Injection of Chemicals by:

Individual Metering Pumps
Multi-Headed Metering Pumps
Injection Rate Control Device (IRCD) with Metering Pump or Fixed Stroke Pump

Heavy Duty API 675 Metering Pumps & API 674 Reciprocating Pumps with:
Packed Plunger Fuid End
Single Diaphragm Fluid End
Double Diaphragm Fluid End

Standard Features (Continued)

Reciprocating Pumps with

Packed Plunger Fluid End
Single Diaphragm Fluid End

Electric Motor or Gas/Air Driven Pumps
Materials of Construction:

Carbon Steel
316SS
Alloy 20
Non-Metallic (PVC, Fiberglass)

Complete Factor Function Test

Optional Features

Rack Mounted Bulkhead Controls for Ease in Operator Interface
Double Diaphragm Fluid End Leak Detection
PLC Control System with Data Highway
IEC/UL/CSA Listed Control Panel Assembly
Class 1, Div. 2 Hazardous Locations
Complete Factory Performance Test
Third Party Inspection by ABS, Lloyd's and DNVStructural Analysis

Additional Services

Installation/Training/Start-Up Supervision
Extended Warranty
Nationwide Service Network

For a modular Process Chemical Injection Package (or similar unit) skid-mounted and engineered-to-order, call 1-800-795-4068 or send us an email.