PSRS-100.0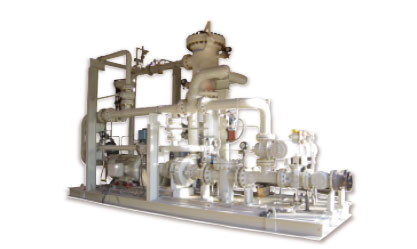 Production Sand Removal Package Desanding Skid for Frac Sand Removal
Skid-Mounted Modular System, Engineered-to-Order
Integrated Flow Solutions Production Sand Removal Systems (a.k.a. desanding skids or desander packages), are designed to remove sand deposited in oil & gas equipment (production separators, inlet separators, crude oil dehydrators, etc.) without interrupting operation.
Benefits

Desanding of Production Equipment During Normal Operation – No Need To Shutdown Equipment for Sand Removal
Removal of Sand Concentrations Up to 15% by Weight
Removal of Sand Particle Size Down to 1 Micron
Up to 98% Sand Removal Efficiency
Inlet Pressure Range of 0-600 psig
Pre-Packaged Modular Design Costs Less than Component Based Site Built Which Reduces Overall Project Cost
Minimizes Field Erection Time – Shorter Overall Project Delivery Schedule
Complete System Function Testing Prior to Shipment
Complete System Function Testing Prior To Shipment
24/7 Customer Service

Industry Standards

Vessels Code Stamped ASME Section VIII & National Board Registered
Piping Designed to ANSI B31.1/ANSI B31.3
Pipe Fabrication to ASME Section IX
Structural Steel Assembly Designed to AWS D1.1

Standard Features

Hydrocyclone Separator Technology Using Ceramic Liners
Ceramic Liners from 1" to 24"
Hi-chrome Slurry Pump Construction for Long Life and Reduced Downtime
Automated PLC Based System Control for Ease in Desanding Multiple Vessels and/or Remote Operation
Rigid Structural Steel Base with Curbed Perimeter & Drain to Minimize Environmental Impact
Hydrotesting of All Piping
Hydrotesting of Sump Vessel
High Quality Industrial Coating System OIL & GAS GENERAL

Optional Features

All NEMA or IEC Rated Enclosures and Components for Class 1, Div. 1 or Div. 2 Electrical Areas
Panelview Operator Interface
Complete String Test of Package with Sand Lden Fluid to Duplicate Actual Site Conditions

Additional Services

Nationwide Service Network
Installation & Supervision
Turn-Key Projects
Equipment Leasing Program
Extended Equipment Warranties

For a modular Production Sand Removal skid-mounted and engineered-to-order, call 1-800-795-4068 or send us an email.