PSED-100.0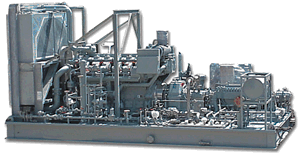 Engine Driven Pumping System
Skid-Mounted Modular System, Engineered-to-Order
IFS Engine Driven Pumping Systems are designed to transfer various industrial liquids (water, hydrocarbon, chemicals, etc.) from one location to another. The system consists of a diesel or natural gas fueled engine, gear increaser/reducer, pump and controls. The controls systems range from a standard annunciator panel to complete PLC control system.
Benefits

Single Source Accountability
Pre-Packaged Modular Design Costs Less Than Component Based Site-Built Systems Reducing Overall Project Cost
Minimizes Field Erection Time - Shorter Overall Project Delivery Schedule
Complete System Function Testing Prior To Shipment
24/7 Customer Service

Industry Standards

Vessels Code Stamped ASME Section VIII & National Board Registered
Piping Designed to ANSI B31.1/ANSI B31.3
Pipe Fabrication to ASME Section IX
Structural Steel Assembly Designed to AWS D1.1

Standard Features

Pump Configurations to Meet Various
Hydraulic Requirements:

Centrifugal Single Stage or Multistage
Positive Displacement Plunger or Screw

Diesel or Natural Gas Engine Drivers
Parallel Shaft Single/Double Reduction or Increaser Gearboxes

Standard Features (Continued)

Rigid Structural Steel Base with Curbed Perimeter & Drain to Minimize Environmental Impact
Annunciator Panel to Monitor Critical Engine/Pump/Gearbox Functions
Hydrotesting of All Piping
High Quality Industrial Coating System

Optional Features

All NEMA or IEC Rated Enclosures and Components for Class 1, Div. 1 or Div. 2 Electrical Areas
Panelview Operator Interface
Microprocessor Controller with INTEGRAFLOWTM Control Software to Monitor Critical Functions & Provide Complete System Control
Complete String Test of Package
Cartridge Tandem/Double Mechanical Seals

Additional Services

Nationwide Service Network
Installation & Supervision
Turn-Key Projects
Equipment Leasing Program
Extended Equipment Warranties

For a modular Engine Driven Pumping System (or similar unit) skid-mounted and engineered-to-order, call 1-800-795-4068 or send us an email.