PBPS-100.0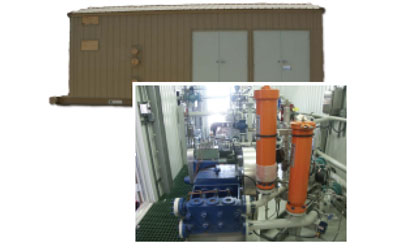 Packaged Pump System
with Building
Skid-Mounted Modular System with Building Enclosure
Integrated Flow Solution's Packaged Pump Systems with Building (PPSB) are designed to minimize on site installation costs by including the complete pumping system, electrical switchgear, instrumentation, and insulated building enclosure in one transportable module. PPSB Series are used for water injection, effluent transfer, pipeline, chemical injection, and firewater systems. The complete system includes pumps, electric motors, suction/discharge piping, valving, instrumentation, controls, & switchgear.
Benefits

Single Source Accountability
Pre-Packaged Modular Design Costs Less Than Component Based Site-Built Which Reduces Overall Project Cost
Mimimizes Field Erection Time -- Shorter Overall Project Delivery Schedule
Complete System Function Testing Prior to Shipment
24/7 Customer Service (1-800-859-8724)

Industry Standards

Vessels code stamped ASME Section VIII & National Board Registered
Piping designed to ANSI B31.1/ANSI B31.3
Pipe fabrication to ASME Section IX
Structural Steel Assembly Designed to AWS D1.1
Structural building panels designed to the latest edition of AISC "Specifications for the Design, Fabrication, and Erection of Structural Steel Buildings"
Building loads designed in accordance with the Metal Building Manufacturers Association publication, "Recommended Design Practice Manual"

Standard Features

Pump Types

API 674 Horizontal multiplex plunger
ANSI B73.1 or ANSI B73.2 Single stage centrifugal
API 610 Single or multistage centrifugal
API 675 Metering

Electric motor or engine (gas or diesel) drive

Standard Features (Continued)

Full pump/motor instrumentation including vibration, temperature, flow, & pressure monitoring.
Rigid structural steel base with curbed perimeter & drain to minimize environmental impact
Hydrotesting of all piping
2-Line Text Display
High quality industrial coating system

Optional Features

Simplex, Duplex, and Triplex pump configurations
All NEMA or IEC rated enclosures and components for Class 1, Div. 1 or Div. 2 electrical areas
Human Operator Interface
Microprocessor controller with Integraflow™ control software to monitor critical functions & provide complete system control
Complete string test of package
Building panels designed with Arctic insulation for severe weather installations

Additional Services

Nationwide Service Network
Installation & Supervision
Turn-Key Projects
Equipment leasing Program
Extended Equipment Warranty

For a modular Packaged Pumping System with Building skid-mounted and engineered-to-order, call 1-800-795-4068 or send us an email.